The Solid Wood Flooring Company is an Associate Member of the NAS. The below article has been prepared for our members to further introduce The Solid Wood Flooring Company offer.
Since the humble beginnings, The Solid Wood Flooring Company built up over 40 years of experience and knowledge within the construction and refurbishment industry.
We take great pride in working with the UK's most prestigious and established builders and property developers. Through these partnerships, we've played our part in bringing restaurant chains, hotels, museums, and commercial outlets to life.
One thing we've learnt is that architectural and design projects have specific, demanding requirements to create a space's unique atmosphere. That's why a large proportion of our wood floors have been designed and manufactured to exacting specifications created by architects and interior designers.
We don't just talk the talk; we walk the walk too. Here are 6 reasons why The Solid Wood Flooring Company is an ideal match for Architects and Designers.
Sustainable Living & Design
The construction, operation, and maintenance of built environments accounts for 45% of the UK's total carbon emissions. It's down to ineffective and wasteful demolishment models.
If you're an architect or designer looking to develop environmentally friendly properties and promote sustainable living, we promote retrofitting.
Rather than knocking down buildings and starting from scratch, choose to repurpose them instead. Doing this improves energy efficiency, decreases energy demand, and is cost-effective.
Better yet, we're experts at providing flooring for retrofitted properties and projects. Floors for residential spaces like homes and hotels require a high level of resistance against mould, dents, water, and fire. This is where some of our flooring holds its own, boasting fire and water resistant and dent and mould proof features.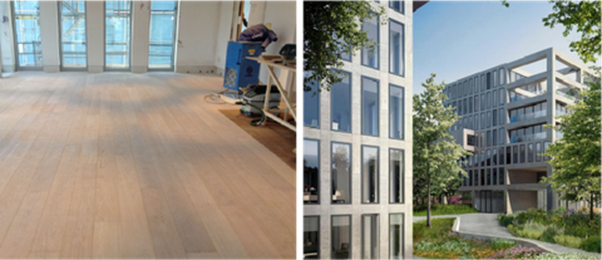 Sustainability & Ethics
We know ethical and sustainable architecture and design is critical to our planet's future. That's why we unreservedly condemn illegal logging and will not manufacture some exotic species as we believe a lot come from questionable sources.
That's why we only source from well-managed, legal sustainable forests. It's also why we manufacture our own wood flooring because we can control the sources of our raw materials unlike our competitors who buy from traders.
To ensure our materials come from certified, sustainable, and well-managed forests, we work closely with the Forest Stewardship Commission (FSC) and the Programme for the Endorsement of Forest Certification (PEFC).
Our FSC chain of custody certification means our materials have been identified and separated from ineligible and unacceptable ones as it makes its way along the supply chain from the forest to your project.
This means all our flooring can be traced back to the forest where it was harvested, ensuring its responsibly managed.
We offer unbiased advice
Thanks to years of experience working with architects and designers, we offer extensive and unbiased advice on large and small specialist projects. We know how important it is to ensure a successful installation of our wood flooring, which is why we're always on hand to guide the process.
We create bespoke flooring and unique designs
When it comes to architecture and design, no two projects are the same. It's the same for flooring – there's no one size fits all solution.
No matter the size of the space, we can manufacture bespoke floors to fit your project's needs. And if you've got a specific brief to match, we can provide unfinished engineered flooring to create your own colour and finish. That way, you'll have a completely unique atmosphere and design to play with.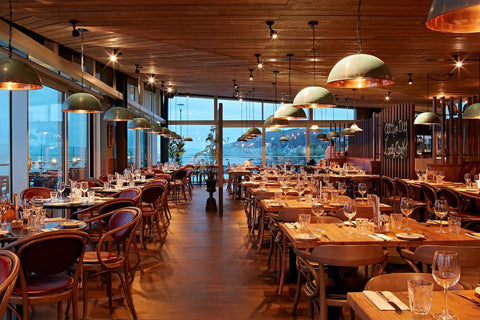 Listed buildings & period properties
Our founder started out refurbishing Grade I and II listed properties, so we know they need a little TLC. And if you're working on a listed property, we've got the expertise to help.
Whether the original wood flooring has become rotten, or a major refurbishment requires some delicate repairs and replacements, we've got the flooring to fit.
Our antique oak wood flooring is approved by the listed planning office, and because its appearance comes so close to that of real, heritage wood, it's ideal for listed buildings where maintaining its original features is essential.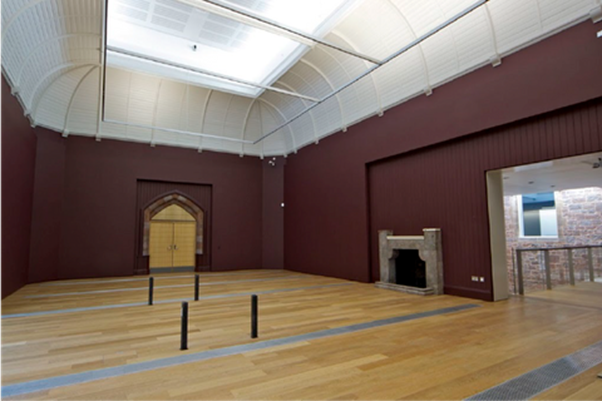 Large volumes & on location delivery
At The Solid Wood Flooring Company, we take great pride in practising value engineering. We believe in being on time, on budget, and on value with our delivery.
The knowledge and expertise we've acquired over the years enables us to work smarter. In turn, our careful planning and intelligent manufacturing processes significantly cuts costs, helping you save money on your project.
Items in stock can be delivered within three working days to mainland U.K., so if you've got a project with tricky time constraints, we can cater for it quickly. And if you're ever caught short, we can deliver additional flooring efficiently, so there's no delays to your work.
We know that architectural and design projects have specific, demanding requirements with short lead times. That's why we take great pride in being able to manufacture bespoke boards for areas over 1000m2. So no matter how big or small a building, we've got what you need.
If you're working on a commercial or residential project, and require bespoke flooring, please get in touch.