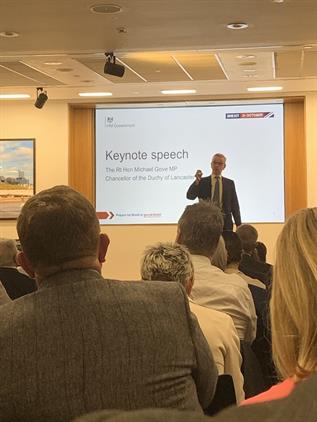 James Filus, Director of the NAS, visited Westminster on Thursday 12 September 2019 to listen to a keynote speech from the Rt Hon Michael Gove MP, Chancellor of the Duchy of Lancaster, on the subject of Brexit readiness. The speech was attended by representatives from UK business, Government agencies, and Trade Associations.
Mr Gove MP started by confirming that the Government was determined to secure a deal, but added that businesses should be taking steps to prepare for a no deal Brexit. It was recognised that – like GDPR before it – preparation for Brexit was an additional burden being placed on businesses, but Mr Gove also commented that the Government is listening and responding to any concerns raised as they arise.
After a brief presentation on what Mr Gove sees as eight key considerations for the Government to resolve (the flow of materials and people with mainland Europe, the Northern Irish border, and personal data held by European colleagues being the most mentioned considerations), the opportunity to ask questions was opened up to the room.
On the subject of trade tariffs, he confirmed that the Government had published a temporary regime in preparation for a no deal Brexit earlier in the year and added – while the document was being reviewed now – it was unlikely to change significantly in advance of 31 October 2019. The document referred to by Mr Gove can be found here: https://www.gov.uk/government/news/temporary-tariff-regime-for-no-deal-brexit-published.
When discussing the impact of Brexit on the labour force, Mr Gove acknowledged that the UK had benefited hugely from European labour – adding that he believes the Government's settlement scheme should provide the assurance the businesses and employees need. However, he also added that he does not agree with using a £30,000 salary as a definition of skilled versus unskilled labour, and he feels that a more sector specific approach is needed. More information about the settlement scheme can be found here: https://www.gov.uk/settled-status-eu-citizens-families.
James Filus commented: "It's clear that there is a significant amount of uncertainty about Brexit and the presentation from Mr Gove MP, understandably, didn't resolve that. However, the overwhelming message was the Government is doing its best to listen to businesses and answer any specific concerns they may have. If any NAS members have specific concerns about the impact of Brexit – deal or no deal – I'd welcome them to contact me, to see if the NAS can help in any way. In the meantime, I would encourage all NAS members to use the Government's 'Get ready for Brexit' tool or attend a free Brexit Business Readiness Event, taking place across the UK."