The National Associaction of Shopfitters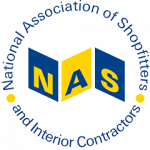 Below you will find various versions and formats of the NAS logo. Please note that the NAS logo is a registered trademark exclusively for use by NAS members and partners.
If you are not a member or partner of NAS, we kindly request that you seek permission by contacting the association first. We appreciate your respect for our brand identity and the values it represents.

Standard version, white background.
JPG 212 KB / 2500 x 1639 px

Roundel version, white background.
JPG 336 KB / 2100 x 2100 px

Standard white, no background.
PNG 19 KB / 600 x 400 px