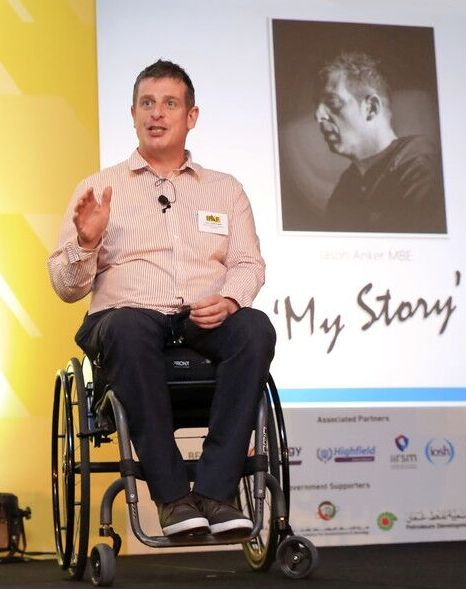 In 1993 I had a fall from height whilst working on a roofing job, falling ten feet from an unsecured ladder. Only 24, I was married with two young children, and was left paralysed from the waist down and permanently confined to a wheelchair.
'Life changing' sometimes doesn't feel quite enough to describe my life, not only has it affected me physically, but the mental trauma has been difficult to talk about for many years.
I strongly believe my own mental wellbeing problems I was experiencing at the time of my accident played a pivotal role in the poor safety decision I made that day.
The cost of an accident will always focus on the view of the injured person but I think the true cost is also how this affects the family and friends of the injured person, who have to deal with the fallout of the accident too.
Shortly after I was released from hospital following my fall, my wife left me. In a bid to cope with it all, I turned to alcohol, before eventually turning to drugs, and ended up back in hospital in a coma for several weeks. I am glad to say I recovered and have put that all behind me.
It wasn't until 2009 in Tenerife, during a chance encounter with the late behavioural safety professional Dan Terry who overheard me telling my story, that I was made to realise I could help change people's attitudes towards safety by sharing what I had been through myself.
This is how I became to be a motivational and behavioural safety speaker – regular training and raising awareness of the dangers of unsafe practices whilst working at height can only be a benefit if we are to see a reduction in the amount of deaths and injuries.
I have two companies – Proud2bSafe run by my daughter Abbi Taylor which focuses mainly on supplying inspirational safety speakers, and Anker & Marsh, my collaboration with Professor Tim Marsh, a consultancy focusing more on health and wellbeing such as the impact of fatigue on the workplace.
The proudest moment of my career was being awarded an MBE in 2015, not so much for myself but for my parents. My Dad and my daughter Abbi came to the investiture at Buckingham Palace, it was a special day.
For nearly a quarter of a century I used to say, "There's nothing good about being in a wheelchair", but I now have a better mindset and make the most of every day concentrating on the things I can do, not what I can't.
This is why I am happy to help wherever possible, such as sharing my story for the NAS' Working at Height campaign, to ensure that people seek out the correct training before working at height and are aware of the effects poor mental health and wellbeing can have in the workplace.