Interview with Dave Keen, Training Manager at Kentec, NAS Approved Training Provider operating in London and the South.
Dave, how did you first come in to the industry?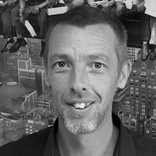 I found a passion for instructing during my army career, so it was a natural transition for me when I left 7 and half years ago. I original planned on just teaching first aid but developed a passion for Health and Safety. I now teach a range of industry related subjects ranging from NEBOSH to Manual Handling (First Aid is still my passion though).
Kentec Training have written a bespoke course for NAS Members Control of Dust within Construction: Sites / Workshops & Manufacturing Environments – could you tell us about it?
It was an enjoyable, albeit challenging, brief to address, as the course needed to meet various requirements to be accepted by CITB to be recognised against their Control of Dust Standard and align to a Grant Eligible Training ('GET') Code, as well as meeting the needs of NAS members. Ensuring delegates understood the risk assessment process was of upmost importance as part of this course.
Feedback so far has been absolutely fantastic, we look forward to hosting future courses for the NAS, especially as part of their next weeklong campaign NAS Construction Respiratory Health & Training 7 June – 11 June 2021. 
Kentec are an accredited Fit2Fit RPE Fit Test Provider, what can you tell our Members about Face Fit Testing?
Face Fit Testing became a major focus for Kentec during the pandemic, our team of assessors carried out around 4,000 tests in a three month period (including NHS). Face Fit Testing is often overlooked when selecting respiratory protective equipment (RPE) for staff. Masks are very much like shoes, one size does not fit all. I would encourage anyone looking for Face Fit Testing to ensure they use a Fit2Fit accredited assessor (e.g Kentec Training).
What's the best way for NAS Members to book Training with Kentec at preferential rates?
Kentec Training can cover a majority of the UK and are also now delivering a number of courses via Virtual Classroom (Microsoft Teams and Zoom). Kentec live course calendar is available online. NAS Members should contact NAS Training Manager for details at enquiries@shopfitters.org / 01883 624961
What's the most helpful advice you have ever been given both personally and professionally?
That's a tough question! During my army career I was offered many "words of wisdom" many not appropriate for here! As a young junior non-commissioned officer (JNCO) I was always told to lead by example and look after your "staff"; these words have rung true with me ever since. In 2016 I took part in a 100km sponsored walk along the front line of the Somme for the Army Benevolent Fund, a charity I support thoroughly. The night before the first day of walking we met one of the ABF's ambassadors a triple amputee veteran. His final words have stuck with me "what the mind believes the body achieves".
Get to Know People in our Industry
Read other "5 minutes with" interviews.