The UK construction industry has some ground to cover after its three-month hiatus this year during the Covid-19 crisis. This is especially the case for hospitals, offices, gyms and many other public buildings that are now having to remodel interiors to ensure safety in the new age of social distancing.
The efficacy of the bathroom cubicle, for example, is in dispute. Instead of a long line of cubicles and an even longer queue, workplaces and public use buildings may well move toward individual bathrooms with separate hand washing facilities, to allow for more space in between people waiting and far fewer unwashed hands on cubicle doors.
Accomplishing this ahead of our full emergence into the outside world will mean partitioning current multi-use bathrooms in record time and ensuring new fixtures and fittings are properly secured. The challenge is also to ensure installers, such as dryliners, can easily socially distance while working too.
As doubling the contractor workforce is out of the question, the solution rests on the building products and manufactures to help solve the challenges of this new world.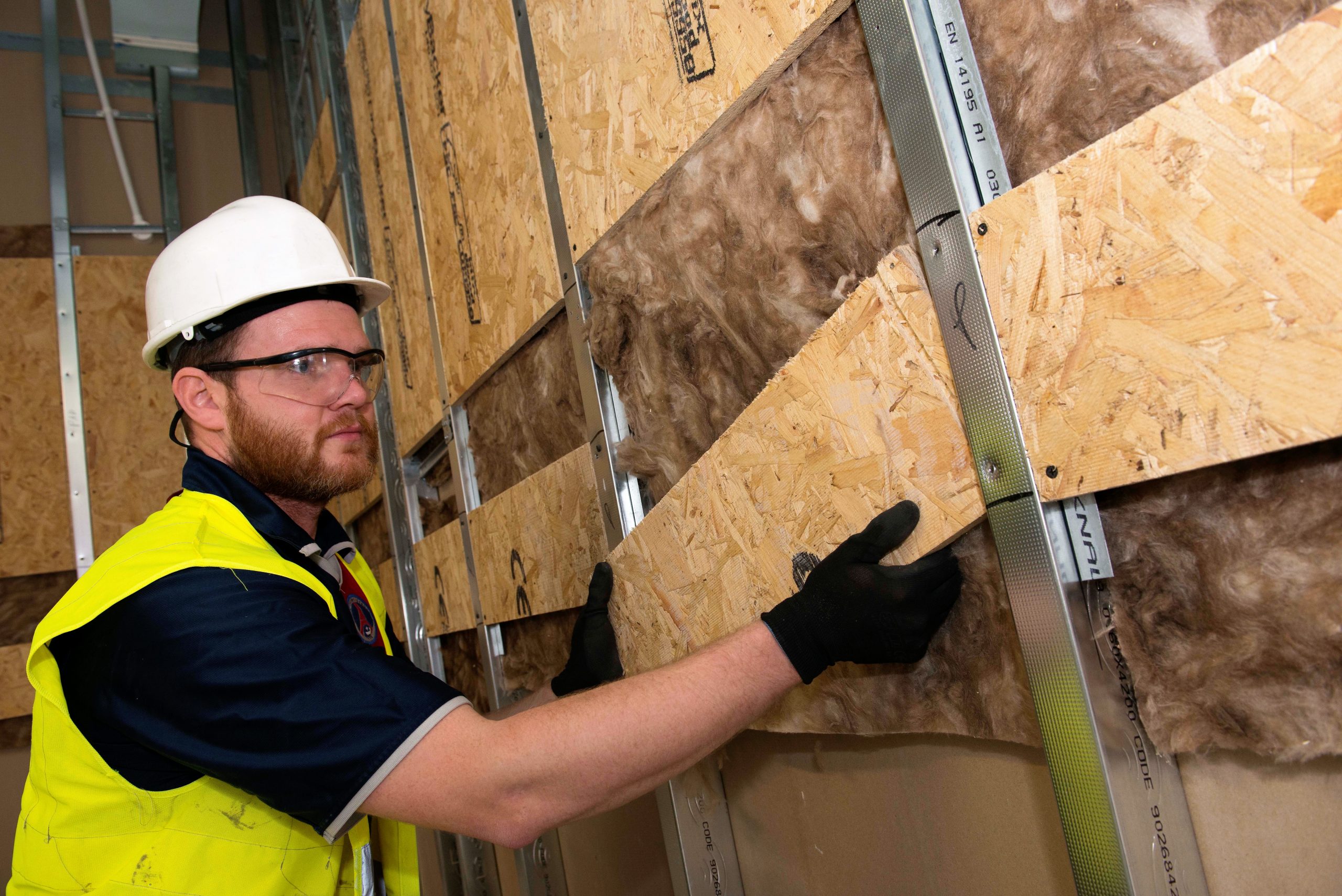 Historically responsible for allowing dryliners to finish installations days in advance, Pattress Plus, the pre-rebated, pre-sized pattressing panel from NAS Associate Member, MEDITE SMARTPLY, is developed to rise to any challenge, and is recognised as a suitable alternative to plywood.
Dryliners can save valuable minutes on each panel installed as no cutting or rebating is needed on site: the precisely positioned, continuous recess along one side is designed to accommodate 'C' studs easily and securely.
As well as speed, the effect of this is a massive reduction in use of power tools, unnecessary dust and excessive noise generation.
Panels are provided ready to use in thicknesses of 15mm or 18mm, widths of 397mm or 597mm (to perfectly fit 400mm and 600mm stud centres), and lengths of 1250mm or 2397mm, corresponding with leading plasterboard partition specifications. This is in line with FIS safety task guidelines and make Pattress Plus a safe one-man lift, enabling dryliners to work alone when necessary.
Importantly, speed comes with no sacrifice of loadbearing ability. Meeting the severe duty rating, Pattress Plus is tested to BS 5234-2, demonstrating a pull-out working load of 150kg and heavyweight anchorage of 250kg. Anything from large mirrors, basins, cupboards (whatever their contents might be) and toilets (and whatever extra weight is applied to them) will be safe.
Finally, Pattress Plus doesn't add to the thickness of the finished partition wall. It can even provide a robust structure suitable for use in public access areas, including corridors and stairwells, contributing to higher levels of impact-resistance.
While construction is certainly not the only industry that must adapt to accommodate a new era, it is becoming clear that it must be one of the first. In light of this, innovation in building products that make adapting easier and more efficient, for the safety of all involved, are all the more important. Let's do the right thing, together.
Check out Pattress Plus from MEDITE SMARTPLY here.
This guest blog was provided by NAS Associate Member, MEDITE SMARTPLY.