All in all it has been a busy eight months since I shared my last blog. Despite the obvious challenges the Covid-19 pandemic has brought to the world of Training and Development, the CITB, training providers and accrediting bodies have all reacted swiftly during lockdown, turning classroom based courses and their related accreditations into a workable virtual alternative.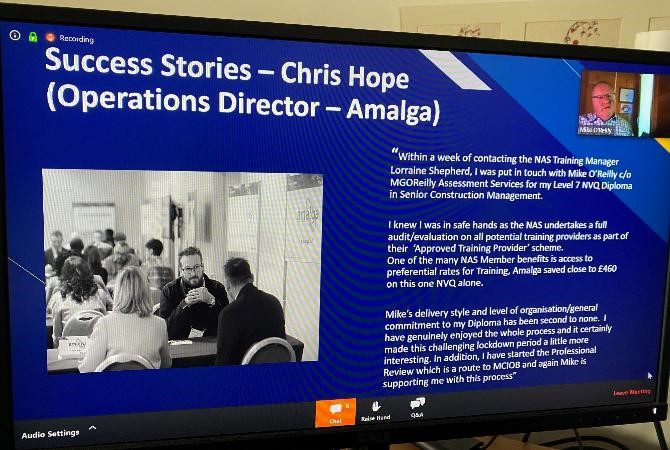 It has been great to hear of the achievements completed, including Chris Hope, Operations Director of Amalga and Exec Board Member of the NAS, achieving his NVQ Level 7 in Construction Senior Management online at home with NAS Approved Training Provider, MGO'Reilly Assessment Services Limited. Passing this NVQ has afforded Chris the opportunity to apply for membership of the Chartered Institute of Building, and Mike O'Reilly, managing director of MGO'Reilly Assessment Services, has guided him through the process.
The NAS Team completed a virtual course too, with another of our Approved Training Providers, Dougal Consultancy. Originally the half day Presentation Skills course was meant to take place in person at NAS House, but managing director Paul Dougal adapted the course for Zoom and it had fantastic feedback from the whole team.
Our NEBOSH Gold accredited Approved Training Provider Lighthouse Safety have successfully delivered a large majority of courses via Zoom too, and are now offering the NEBOSH General Certificate open book exam online. Following Government guidance they have re-opened for some classroom based training and are doing everything they can to manage transmission risk. As per their website, they have safety measures in place including an infrared thermometer, hand sanitiser stations throughout the building, and a two metre rule layout in their classrooms.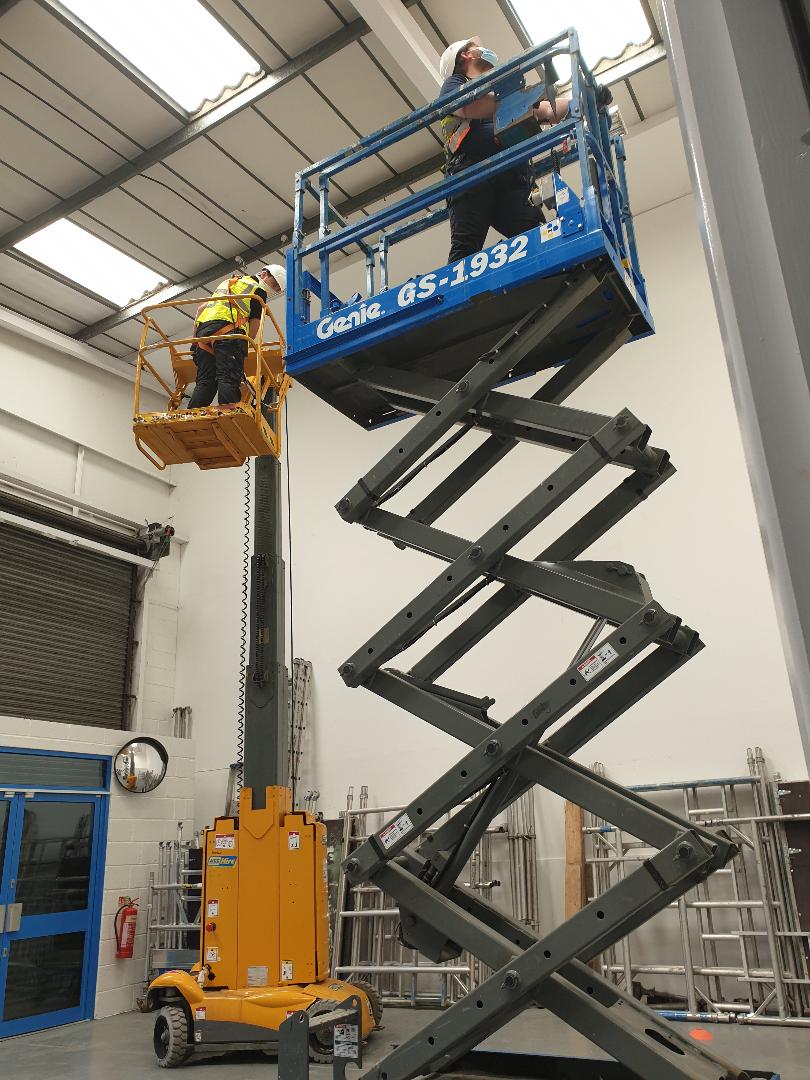 I recently evaluated and audited HSS Training, another NAS Approved Training Provider, reviewing their IPAF 3(a) + 3(b) course and their training centre in Swanley, Kent, to ensure they are Covid-secure. Checking against their risk assessment as well as my own, I'm pleased to say they passed with flying colours and I felt very safe during my visit there. They have 60+ training centres in total, and the one in Swanley is very inclusive, open nights and weekends for those working different shift patterns.
We in the construction industry have always been aware of the importance of RPE (Respiratory Protective Equipment) and this pandemic has further emphasised now more than ever just how crucial face masks are. Back in January I attended a Train The Tester Qualitative Face Fitting Course with 'Fit2Fit' Accredited Provider, We Fit RPE, who work in association with our Approved Training Provider AT&C Ltd, which specialises in asbestos courses.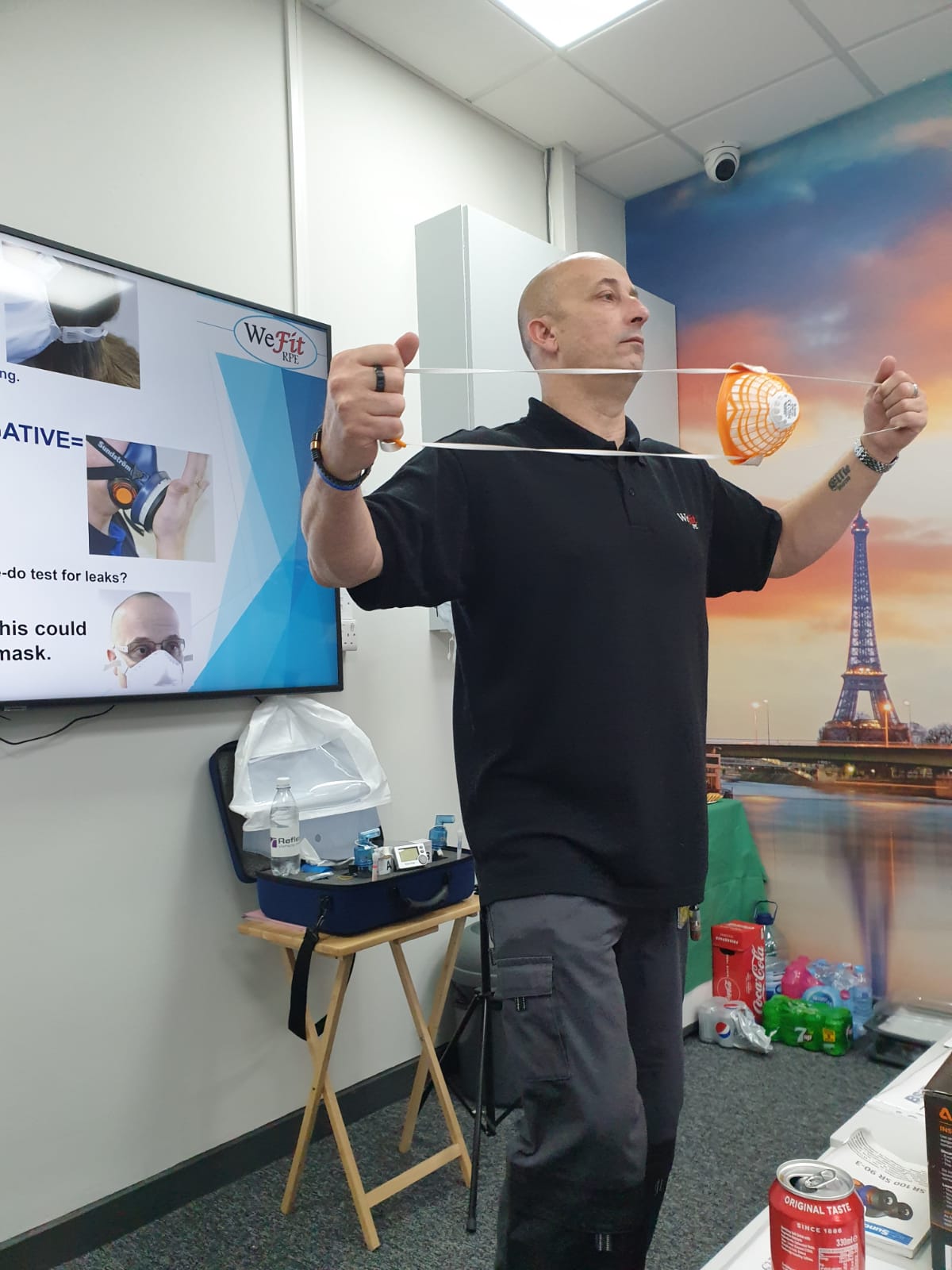 There are two forms of face fit testing, qualitative and quantitative, both of which take approximately 20 minutes and result in matching an individual's clean shaven face shape with a compatible mask to ensure a tight seal is achieved. I am often asked what the difference is between the two types of testing:
Qualitative Testing
Used only for disposable and half face masks.
The individual wears a hood over the head and shoulders and the tester sprays a bitter solution into the hood.
The wearer carries out a series of exercises, such as turning the head from side to side.
If the individual can taste the solution, there is a break in the mask's seal.
Quantitative Testing
Used for all tight fitting respirators, including Full Face Masks.
The mask is attached to a particle counting machine.
The machine detects whether airborne particles are passing into the mask via a break in the seal.
At the end of the test the machine will give a 'pass' or 'fail'.
Recent research has shown that around 50% of RPE used does not offer the wearer the level of protection assumed. The major reason for this is that is simply does not fit. If you're interested in face fit testing, do get in touch.
The NAS has adapted during lockdown too, with the team continuing to work from home to support our Members, including hosting a series of webinars on training related topics such as CDM2015, mental health and awareness, and training in the shopfitting and fit-out industry. If you didn't manage to tune in live, you can find the recordings located in the Members area of the NAS website.
We also managed to sign up a few more Approved Training Providers during this time which now brings our total to nine.  As standard procedure, I have fully assessed, evaluated and audited each one, and it is great to be able to offer our Members preferential rates with them as one of our key benefits (simply contact myself to access these rates).
I'm proud to be part of the training industry and to see how well it has adapted in such unknown circumstances. I am really looking forward to reinstating my regular face to face NAS Member visits in the future, but for now, I am always available to help Members with any training enquiries on the phone and on email – 01883 624 961 / lorraine.shepherd@shopfitters.org.