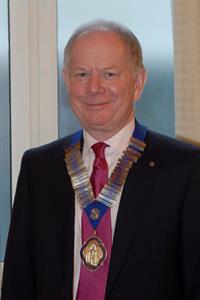 I am incredibly sad to announce the passing of Chris Gabb, a former National Association of Shopfitters (NAS) Council member, President (2011-12), Treasurer, and Honorary Member.
I would like to tell you a bit about how Chris started out, and how he eventually became involved with the NAS.
Chris started in the industry following secondary school, successfully completing an apprenticeship at a local joinery company, before joining a large national building company who were undertaking a major redevelopment in the city of Gloucester.
Following this valuable site experience, he joined Barnwood in 1971. Burt Davis, the Director of Barnwood at the time, wanted to expand the company into bank and building society fit outs. Chris assisted on this area in all aspects, from estimating to site management. On Burt's retirement Chris took over control of Barnwood, developing and widening the scope of the company's works further, into the retail area and complete fit out works.
His input and forward thinking developed the company to become a major part of the Barnwood Group resulting in Barnwood Shopfitting being established within the Group in 1982. His controlled expansion of the business made the company what it is today, a major successful player in the shopfitting sector, currently turning over £25 million a year.
Chris' legacy is about so much more than money though. Helping others was always of great importance. He was a strong advocate of the trade apprenticeship and during his time in leadership at Barnwood, he supported over 90 apprentices through the business, many of whom went onto senior positions in the industry.
He had a down to earth and practical approach to his work, developing a culture within the business of helping customers and staff, which continues through to today. Chris worked closely with clients to understand their needs and regularly made the seemingly impossible, possible.
It was in 1974 that Barnwood became a member of the NAS, and Chris was elected to join the Council in 2001. He went onto become our President from 2011-12 and then our Treasurer, before his retirement in 2016. He developed many long-term friendships with NAS members and was known to be a hardworking family man and a trustworthy support figure, who always put the Association's interests first.
It was extremely fitting that Chris was the winner of our Outstanding Contribution Award at our Design Partnership Awards in 2017. Chris touched the lives of many throughout his career and time at the NAS. I feel that Dave Park of Cumberland Group, one of our past Presidents, sums Chris up perfectly: "It takes a special human being to gain my absolute trust and friendship."
On behalf of the NAS, I would like to extend our condolences to Chris's friends and family at this difficult time and say thank you, for his incredible contribution to the NAS over several decades.
I have been informed the service for Chris will be at Gloucester Cathedral on 29th August at 3pm. Everyone is welcome.
Marc Allen, President of the National Association of Shopfitters