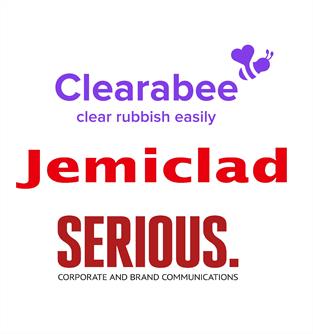 Three new associate members, Clearabee Ltd, Jemic Ltd and SERIOUS PR, have recently joined the National Association of Shopfitters. Details on each new member and the services they offer are detailed below.
Clearabee Ltd
Clearabee is the UK's largest in-house rubbish removal company, offering a same day or on demand service across the country. Services include man and van style clearances, skip hire, skip bags and total waste. Clearabee operates seven days a week and customers can book or get updates on any jobs 24/7 through an industry leading customer portal, with instant availability of compliance documents and photos, or via a seven-day helpdesk. Clearabee is a carbon neutral company having planted 6,500 trees in the last year.
You can find their contact details here.
Jemic Ltd
Jemiclad is an effective wall covering where hygiene or ease of cleaning is paramount and was developed by Jemic using their extensive 27 years of experience. Jemiclad is manufactured from the highest quality PVCu resin, without fillers, so it is 100% recyclable and has a Class 0 fire rating. Jemic has dedicated installation teams nationwide. It is an alternative to Whiterock and comes in decorative, printed and antimicrobial sheets. Discounts on both supply, and supply and install, are available to NAS members.
You can find their contact details here.

SERIOUS PR
SERIOUS is an integrated creative communications agency known for delivering outstanding PR, Digital and Branding programmes. They specialise within the construction and hospitality sectors and work throughout the UK and Ireland for ambitious, clever clients who want to build their profile in the right places. Their work and approach to it has been recognised by a host of UK national awards. Services include: Branding, Content Creation, Publicity, Websites, Digital Marketing and Social Media. They are thrilled to work with the NAS in its Centenary Year and are happy to meet / Skype with any NAS member on a no-obligation basis to conduct a free audit of your marketing activities.
You can find their contact details here.
We are delighted to welcome these new members and look forward to having them at future events.
If you're a member of ours and have any company news or updates that you want shared to reach the rest of our membership, then please email these for consideration to sophie.lewis@shopfitters.org.