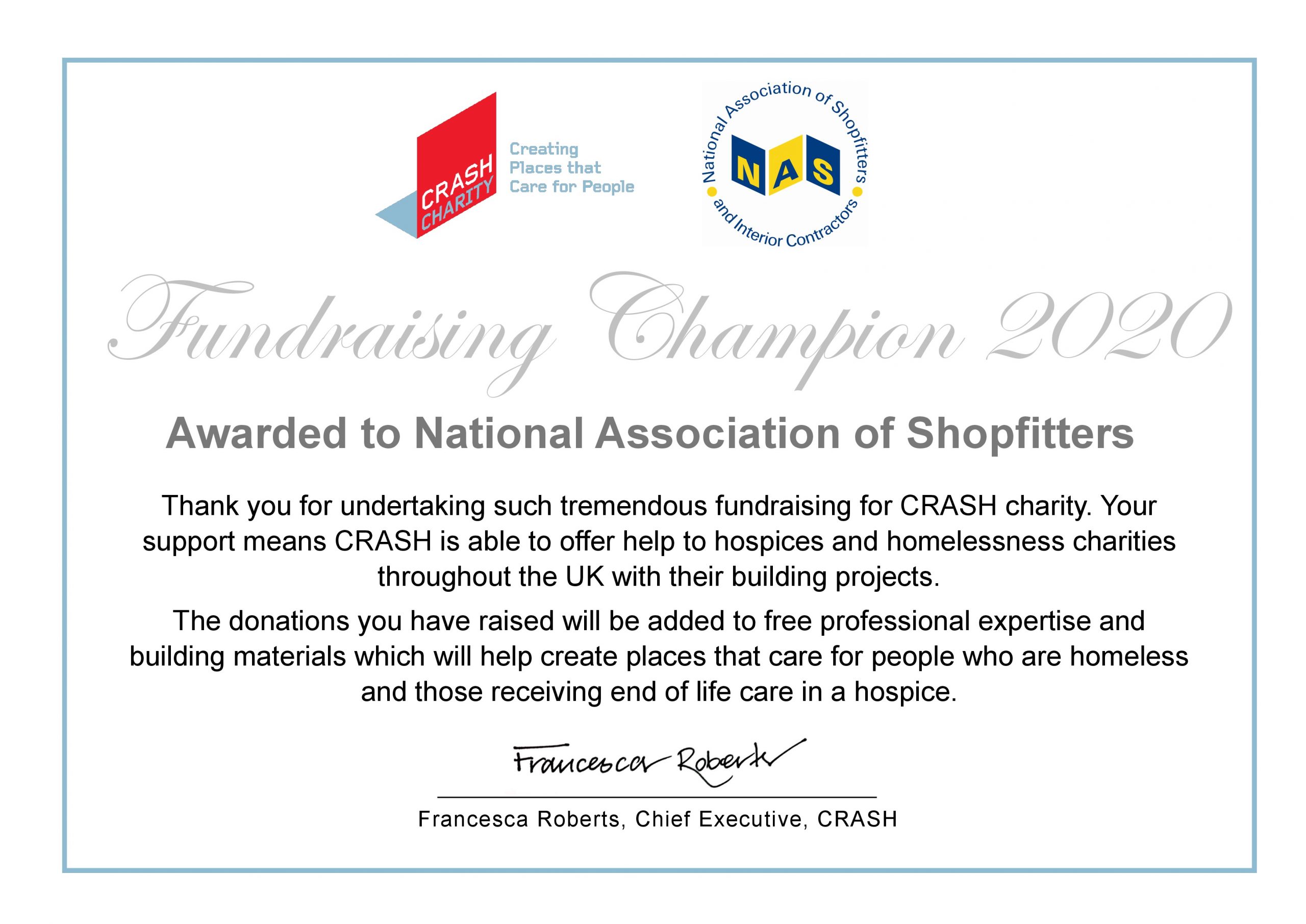 Last year the NAS held the #NAS100CharityChallenge as part of its Centenary celebrations. Our Members had the opportunity to fundraise or volunteer for charity throughout the year, in any way that they wished. Together we exceeded our target and raised a staggering £104k, £3k of which was raised at our Fundraising dinner alone, and a large proportion went to our chosen charity, CRASH.
CRASH is the construction industry's charity that helps homelessness and hospice organisations with their construction projects – creating places that care for people when they're at their most vulnerable. We are very proud to have been recently named as one of their 2020 Fundraising Champions.
Director of the NAS, James Filus, said: "One of the biggest highlights of our Centenary last year was seeing our Members coming together for all sorts of activities including bike rides, marathons, quiz nights and breakfast clubs in order to raise as much money as possible for charity.
The work that CRASH does is extremely important, so it was a pleasure being able to donate to them and we're delighted to have been recognised as one of their Fundraising Champions this year."
Kate Marsh, Senior Partnership Manager at CRASH, said: "I am deeply moved by the incredible generosity and goodwill of the construction community, who support CRASH in a variety of ways. The fundraising efforts of the industry is outstanding and more vital than ever in these challenging times.
To our Fundraising Champions who support our work, thank you. Together we can continue to help adults and children who are terminally ill and in need of end of life care, and those who are homeless and will be needing even more support at this time."
A full list of the 2020 CRASH Fundraising Champions can be found below:
AIS
ATC System Wide
Bougyues
Brick Development Association
Construction Products Association
Construction News
Five 'til Nine Networking
MIPIM Yes Oui Cannes
N-Able
National Association of Shopfitters
National Building and Construction Awards (Events &PR)
National Merchants Buying Society
Polypipe
Roux at Parliament Square
Rydon
SECBE Limited
Wessex Fittings