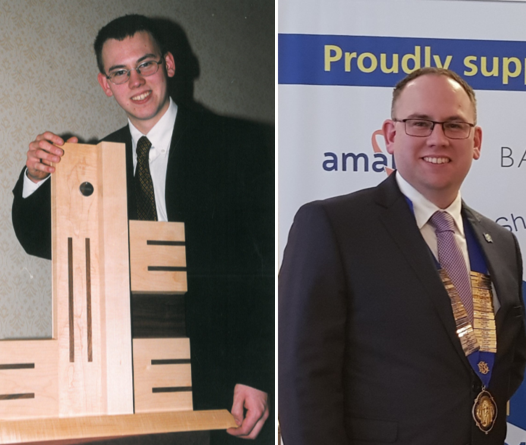 Marc Allen
Current NAS President and Director of Tekne Shopfitting Ltd, Dorset
Age 37
Despite being one of the most accessible and efficient ways to enter the industry (and upskill talent), dismissive attitudes towards apprenticeships are still rife in the UK within our industry. What are your thoughts on this?
Regretfully apprenticeships have sometimes been considered something not to aspire to. Because of this, and in spite of their widespread use across all sectors and at all levels, it can be difficult for people to see apprenticeships for what they really are; a highly effective way for individuals to gain the essential skills that businesses so desperately need.
Tell us about your apprenticeship.
I began my apprenticeship in 1998, a young 16 year old lad with a dream. I arrived at the large intimidating metal gates that guarded the entrance to the factory yard ready to commence my three-year apprenticeship. I feel I am challenging perceptions of apprentices/apprenticeships (and dispelling stigma), as I am proud to say I have gone from apprentice to company director (and now working towards becoming managing director) of TEKNE Shopfitting Ltd, and president of the National Association of Shopfitters (a trade association that celebrated its centenary last year).
When did your interest in the industry start, and how?
For as long as I can remember I have always wanted to work with wood. At the age of four, I was passed a simple set of tools from my father, and then spent hours learning from the master craftsman himself. Since my start in the industry at the tender age of 16, I have a number of professional achievements I am particularly proud of from my involvement within the industry:
• I hold the local record for the shortest time to complete a City & Guilds based NVQ 3 qualification.
• In 1998 (three months after my apprenticeship began) I entered an ash display cabinet into the Guild of Master Craftsmen's Furniture and Cabinet Making Competition, for which I was awarded a certificate of commendation (presented by one of the principles of the UK's most prestigious furniture college's, Parnham House).
• Whilst undertaking my HNC I was awarded the Federation of Master Builders Award for exceptional progress and understanding of the construction industry. I gained my HNC in July 2003 completing the course with distinctions in every subject.
• I was the NAS (National Association of Shopfitters) Southern and National Apprentice Design Award winner.
• I was the yhe youngest person to undertake a timed trial event for membership into the Worshipful Company of Joiner & Ceilers.
• I am President (two-year term) of the National Association of Shopfitters.
What are your concluding thoughts?
I have been asked many times – if I could do it all again would you do something different? My response is the same every time. No way!!! I do what I love, and I love what I do. It's not just a career for me it's my life and something I'm extremely proud of. Yes, it's been hard and yes there have been times I've been totally out of my depth. But so what!!!! Perseverance, dedication, loyalty and commitment have been the core values that have stood me well and will do so for the future.