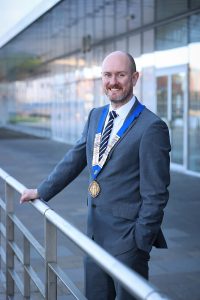 Marcon's Alan Stewart has been appointed as the 44th President of the National Association of Shopfitters (NAS). The position was taken at the association's Annual General Meeting.
The NAS represents over 200 companies in the interior fit-out sector throughout Britain and Northern Ireland.  NAS presidency is a two-year term of office. Alan is taking over the position from Marc Allen (Tekne Shopfitting).
Alan Stewart said: "It is an honour to have been elected as the President of such a time-honoured association. Being a long-time supporter of the NAS, and having served on the Council for a number of years, it is rewarding to be able to represent Marcon in this capacity.  I look forward to working with the new Vice President, Council and the NAS team. Together, we will futher enhance the support the association brings to our industry."
Norman Barbour from Glasgow Based Barbour Fit-Out has been selected as the NAS Vice President.
NAS Background
The NAS was formed a year after World War I to support and represent UK shopfitters. Today, NAS members offer a broad range of bespoke interior fit-out solutions, from design to engineering and manufacturing. The combined turnover of NAS members is over £1.3bn. Their projects include work for the major UK retail, office and hospitality business and public institutions.
NAS is supporting their members and the wider industry by providing access to accurate and timely information. It includes new business and career opportunities, news about specialist products and services. NAS is also offering a subsidised training and industry advice. In addition, NAS members have access to broad range of corporate benefits.
Marcon (marconfitout.com)
Based in Antrim, Northern Ireland, Marcon is a specialist fit-out company offering a complete interior and specialist joinery service to a diverse client base across the UK and Ireland. Maron works with a wide range of clients; from blue chip big brands to smaller independent companies. The company has worked with some of the most respected names in the retail, hospitality, commercial and museum sectors.
Alan Stewart's LinkedIn profile
Barbour Fit-Out (barbourfitout.co.uk)
Based in Glasgow, Scotland, Barbour Fit-Out is an agile, family-run firm employing the latest technology techniques and training whilst retaining the traditional shopfitting qualities of craftsmanship, attention to detail, clear communication and focus on building lasting relationships with the clients. Barbour Fit-Out worked with some of the key businesses and institutions like University of St Andrews, National Trust for Scotland, NEXT, Aldi or Jigsaw.
Norman Barbour's LinkedIn profile