NAS welcomes David Thackway as our latest Honorary Member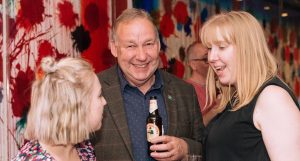 David has recently retired from Darwin Clayton, the NAS' preferred insurance broker, after 34 years of employment. Prior to joining Darwin Clayton, David had worked as an Underwriter in the City for 10 years.
A strong supporter of the NAS, David began attending our events in the 1990's and has missed only a few since. He cites our President's Weekends in Belfast, Lake Como, and Jersey, as being particularly memorable.
Speaking on becoming our latest Honorary Member, David said:
James Filus, NAS Director said:
Honorary Membership is conferred on those who, in the view of the Executive Council, have given exceptional or outstanding service to the Industry. It infers no financial obligation to the NAS, but does entitle access to the benefits of membership.
NAS Honorary Members
View the list of our Honorary Members