NAS and our members support the National Apprenticeship Week (08-14 Feb 2021) with the aim to encourage everyone to consider how apprenticeship programmes can help individuals to plan and develop their career, and employers to build a workforce with future ready skills. Find out more about NAW below. Below is a story of Knate Smith (18), who joined an apprenticeship programme at EE Smith Contracts in September 2019 (Level 2 in carpentry at Leicester College).
What is your role at EE Smith Contracts?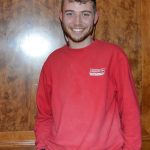 I work in the factory as a bench joiner. At the moment I'm learning everything about doors – how to fit a door, fix them, finish them, and door frames.
Before the first national lockdown last March, I was working for four weeks at EE Smith and then studying carpentry for a week at Leicester College. I repeated the same pattern over and over again.
That was really great because I had a lot of time at work to learn from my colleagues and understand my job here, and then having a full week at college instead of working four days and going one day a week. That way, I found it easier to put into practice what I was learning.
How did the start of Covid-19 affect you?
I was really worried to start with and put myself in isolation for nine weeks. Then, I thought about it and realised work had put all the necessary procedures in place in the factory and there was nothing to worry about. There was social distancing, hand sanitisation and working in smaller groups so I returned to work.
With the colleges closing, it also meant I was no longer going to college for my apprenticeship. I have still been learning loads from everyone I work with as well as EE Smith's apprentice co-ordinator Paul Kulik.
How different has it been studying for an apprenticeship during a pandemic?
It has been totally different than for apprentices during previous years. College work has just started again online but I only had two weeks remaining before the college closed to complete my 18 months.
We have been doing tasks at work and we have had training here which underlines EE Smith's commitment to their apprentices. Paul is teaching us in smaller groups than previously so I don't feel I haven't missed out too much.
Learning is my favourite part of the job. Working here, I have been given a lot of opportunities to learn all about carpentry. I have more knowledge than I feel I would have if I had simply gone to college.
Every job in carpentry is different because of the variety involved and I never get bored. I have something to look forward to every day.
How has the pandemic affected you?
After my worries at the start, I don't think Covid-19 has affected me careers-wise. I think my career is going to get better and better, and I'm going to learn more and more.
I feel quite lucky and privileged because I have been able to continue with my apprenticeship at work.
I'm quite an outgoing, friendly person so, in the past, I would always shake someone's hand. Now I have had to restrain myself from that and have had to adapt and give people more personal space.
I have learnt the rules like everyone else but at least I have been able to come to work and enjoy the surroundings here and stay safe.
How do you see your future?
As soon as I am able to, I will sit the exams for Level 2 in carpentry and then I'm going to focus on continuing to learn from everyone who works here.
So many of the factory staff are now at senior management level which gives you a goal to aim for because EE Smith has invested in their staff through apprenticeships.
It is good because you know that the people teaching you were a former apprentice so they know what it's like and it is easier to relate to them.
Do you consider National Apprenticeship Week to be important?
I think it is a great idea because it is a way of businesses recognising the importance of their apprentices and our work ethic as well as to promote the benefit of apprentices to other companies.
I enjoy being an apprentice because I'm earning while I'm learning all the time. When I was 12, I decided I wanted to be a carpenter. My eldest brother who was then 13 wanted to be an electrician and my twin said he was going to be a plumber.
I thought I would be a joiner because I like to see what I have done whereas with being a plumber or electrician it is all pipes or wires that are hidden away.
We then said we were going to build a house for my mum – but we haven't done that yet!  
National Apprenticeship Week 2021
Build the Future is the theme for NAW2021. To support National Apprenticeship Week 2021, individuals, employers, training providers and communities are being encouraged to get involved, to celebrate apprenticeships and how they: 
 
TRAIN apprentices, and future proof their workforce and careers though apprenticeships; 
RETAIN apprentices, gaining the skills and knowledge needed by the business, and seeing apprentices thrive, whilst having impact; 
ACHIEVE a real return on investment from apprentices; realising the business benefits of apprenticeships, with apprentices progressing in their chosen careers.