As the UK's biggest independent distributor of panel and timber products, James Latham offers the shopfitting sector one of the largest and most varied collections of surface solutions for both inside and outside the building. Whether it's a major shopping centre, a big-brand boutique or a low-budget refurbishment, we've got everything you could possibly need. With 11 nationwide distribution sites, including Scotland and Ireland, our enormous range of products – many of them offered on an exclusive or semi-exclusive basis – are readily available from stock and can, in most cases, be delivered next day. 
James Latham's website is the place to go to see the sheer breadth and depth of our range, but if you are wanting to touch and feel the materials, you can call into your local depot or visit one of our Specification Showrooms in London or Manchester. These have been specifically designed to provide inspiration and ideas for architects, designers and contractors when looking to specify materials, enabling you to keep up-to-the-minute with the latest trends and developments. Our showroom managers can advise you on different materials for your project, explaining the support we give throughout the entire specification process. They can also supply you with samples and literature on our vast range and point you in the direction of our highly experienced and knowledgeable specification team when more technical information is needed.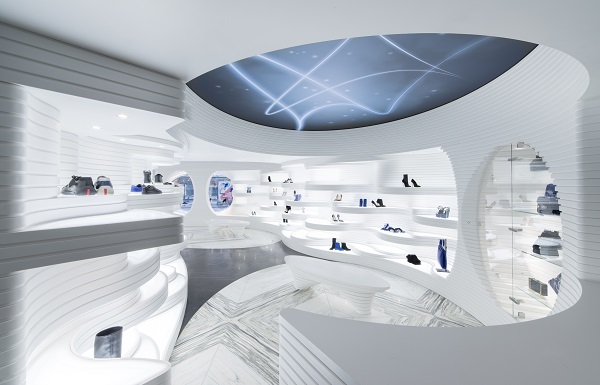 When it comes to shopfitting specification, solid surface is always a popular choice and James Latham's offering includes the HI-MACS®, Avonite® and Studio Collection® brands. Solid surface is an extremely versatile material allowing the freedom to create distinctive designs that define spaces. The wide range of colours, its translucency, its thermoforming properties, its hard-wearing nature, the ease with which it can be manipulated and cut and its uniformity, are all features which make it an ideal material for high-end retail projects that are certain to put the products in the spotlight and guide the customer's gaze in the right direction.
Corporate logos can be simply and easily applied or cut into the material and because it has uniform thickness, it allows for perfectly imperceptible joints, meaning even large-area installations can have the appearance of being cut from one seamless, flowing piece of material.
Another one of our surfaces which is a favourite with the retail sector, particularly on high-end specs, is Xylocleaf. Combining outstanding Italian design with class-leading standards in melamine processing, the feel of this surface is just as important as the contemporary on-trend look. This innovative and highly textured range includes three new collections; Mosaico, which offers a weaved leather surface, Duna, comprising a registered, embossed-stone surface and Alpaca, featuring a soft cotton texture. Strong, durable and highly scratch and chemical resistant, as well as looking great, Xylocleaf is particularly well suited for high-traffic areas. It can be used to manufacture all kinds of interior furniture from counter tops and shelving to cupboard doors, wall panelling and even internal doors.
As well as Xylocleaf, we carry a massive stock range of melamine and laminates from some of the biggest names in the business including Egger, Kronospan, Abet Laminati, and AE Core. With literally hundreds of the latest on-trend and in-demand finishes to choose from, we've got every surface and texture imaginable, from standard plain colours to woodgrains and metallics, so there is bound to be a decor to suit your project and your budget.
Our portfolio of premium-quality, real wood veneers from Decospan includes the Shinnoki, Querkus, Nørdus, and Look'likes collections which are exclusively available through James Latham in the UK. With these surfaces, you get the beauty, colour, markings and structure of solid wood, combined with the many advantages of a veneered panel and they are quickly becoming a firm favourite in the shopfitting sector, particularly for high-end specifications.
Finally, in contrast, for a more natural, stripped back look, the trend for using Plywood in shopfitting continues to grow. As well as its light colouring and superior surface quality, Plywood is also a popular choice because it is strong, exceptionally stable, easy to machine and easy to transport, plus it's an extremely sustainable material, ticking all the environmental boxes. We offer one of the biggest selections of premium quality Plywood in the market from global manufacturing giants such as UPM and Garnica including Softwood Plywood, Decorative Plywood and flexible panels.
To find out more about our stunning collection of surface solutions for the shopfitting sector, or to find details of your local James Latham depot or showroom, please visit www.lathamtimber.co.uk. Alternatively, you can call us on 0116 257 3415 or e-mail marketing@lathams.co.uk.
Content provided by James Latham, Platinum Sponsors for our Centenary Year.