Able to bring life and renewed purpose to buildings old and new, a great interior fit-out is what turns a building into a space to be desired. There is one fit-out trend in particular that is blowing others out of the water when it comes to style, practicality, and maintaining a healthy interior: OSB.
Traditionally more of a behind-the-scenes element, OSB3 (Oriented Strand Board) is a structural board made from chip or strands of wood, fused together to make a strong and durable panel solution. As it's an engineered board, the structural integrity of OSB3 is consistent throughout, with no knots or voids that may occur in natural wood. This makes it ideal for weight, loadbearing or structural applications and is often used within walls and floors for its durability.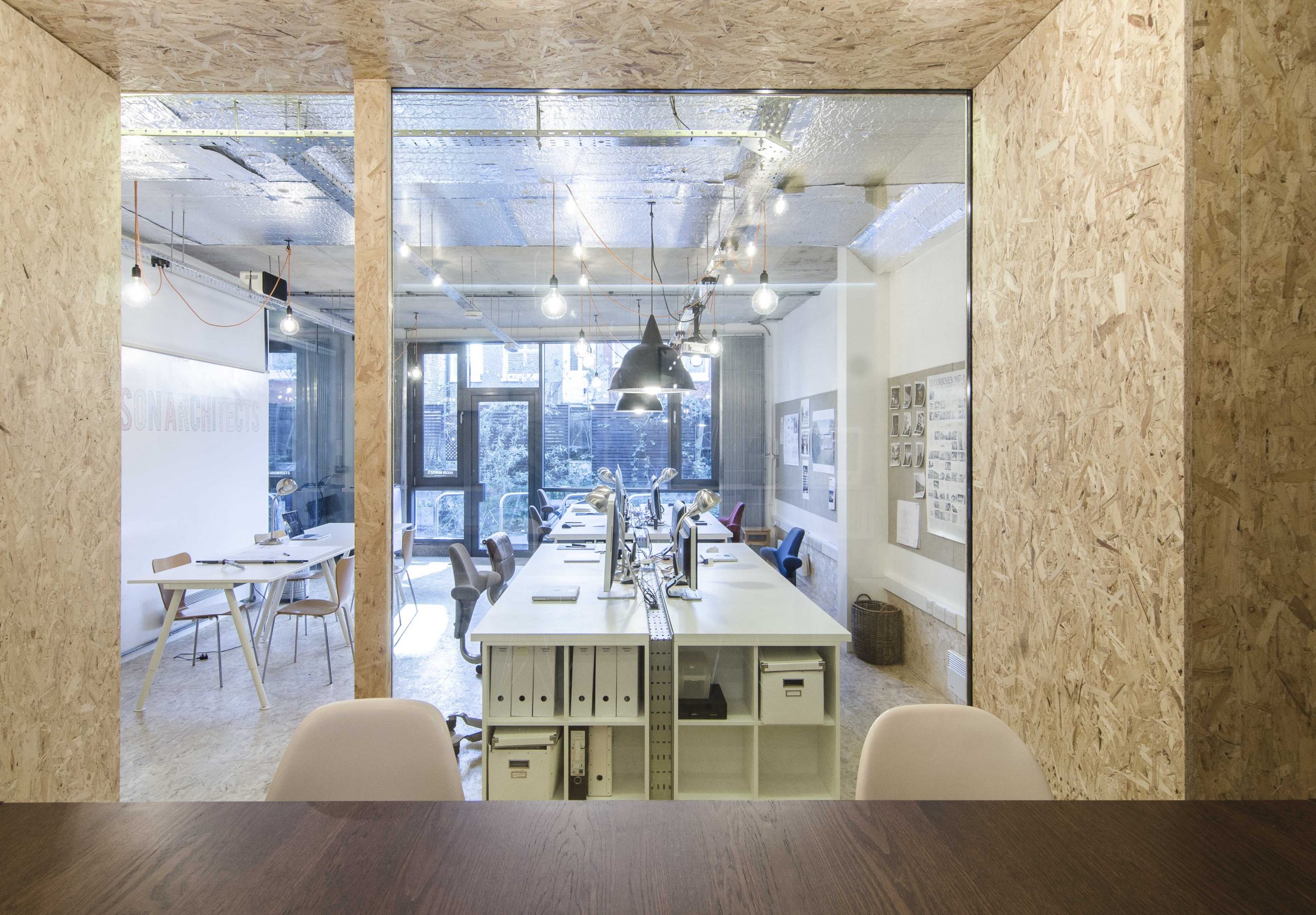 However, some finger-on-the-pulse companies and individuals are reimagining OSB as a product that makes a serious fit-out statement that's meant to be seen. A recent example of this is Hanson Architects, who refitted their head office entirely in SMARTPLY MAX OSB3, and Garvan Debruir, who used the same product to completely fit-out his leather workshop and showroom. Plus, you may have seen the latest bars and eateries in the likes of Shoreditch, London, clad ceiling to floor in this versatile eye catcher.
In practical terms, the use of OSB3 ensured a robust, hardwearing floor surface that would have to deal with everything from heavy foot traffic to chairs scraping as they're pushed and pulled out from under desks. The benefits are similar where it's used within the walls: SMARTPLY MAX actually contributes to a high level of impact resistance when used in this way.
Critically given the recent Covid-19 crisis, SMARTPLY MAX is a product manufactured with the health and wellbeing of both the installing contractor and the building occupant in mind: it contains no added formaldehyde.  When used within the walls, behind plasterboard, it's still highly recommended to specify OSB manufactured with no added formaldehyde for the safety of the installers, and to contribute to those all-important BREEAM credits, which take this timber characteristic into careful consideration.
However, when the panel will be exposed to the elements, no added formaldehyde becomes an essential criterion. The slow off-gassing of VOCs (volatile organic compounds) such as formaldehyde from building products does occur and should be considered very carefully when it comes to the health and wellbeing of building occupants, especially in terms of maintaining good indoor air quality.
SMARTPLY MAX offers an ideal solution to this, while also catering to a very specific and increasingly on trend aesthetic where elements are left in their raw state as a nod to authenticity, simplicity and minimalism. It also demonstrates clear sense of pride in the use of sustainable, wellbeing focused materials by putting them unmistakably on display.
Click here to find out more about SMARTPLY MAX and the possibilities it could bring to your next fit-out project.
This guest blog was provided by NAS Associate Member, MEDITE SMARTPLY.