Respiratory Health and Training Week
Following our successful Working at Heights campaign, we've now turned our attention to Respiratory Health.
Respiratory Health and Training Week
Cutting, drilling, grinding and polishing – which are all regular tasks for those in the sector – generate particulates fine enough to get deep into your lungs. Exposure to those particulates can cause lung cancer and other serious debilitating respiratory diseases. It is estimated that exposure to workplace particulates causes over 3,500 deaths a year in construction, which are ultimately preventable. Sadly, we have lost members of the NAS family to such diseases in the past.
The NAS are running this digital Awareness campaign with respected industry stakeholders running for one week, Mon 07 – Fri 11 June 2021 with a focus on:
Masks (Face Fit)/RPE

 

Silica Awareness

 

Asbestos Awareness – course

 

Control of Dust – course

 

Dust Audits

 

Welding and Metal Working
Respiratory Health and Training Week
This page will be updated throughout the campaign.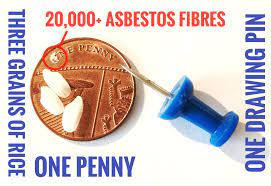 Per the HSE there are 16 occupations that would require accredited Asbestos Awareness training.
Those workers in the refurbishment, maintenance and allied trades where it is foreseeable that ACMs (Asbestos Containing Materials) may become exposed during their work.
This includes, but is not limited to: 
demolition workers

 

 

construction workers

 

 

general maintenance staff

 

 

electricians

 

 

plumbers

 

 

gas fitters

 

 

painters and decorators

 

 

joiners

 

 

shop fitters

 

 

plasterers

 

 

roofers

 

 

heating and ventilation engineers

 

 

telecommunication engineers

 

 

computer and data installers

 

 

fire and burglar alarm installers

 

 

architects, building surveyors and other such professionals.

 
Half Day Online Training Course
Training delivered by UKATA accredited NAS Approved Training Provider AT&C  (free course for 11 NAS Members, Tues 29 June 08:45 – 12:45 via Zoom – first come first served).
Read more about our Trainer Chris Bishop in his 5 Minutes With.
Note – This course attracts £30.00 pp CITB Grant against GET0096 
Read the article prepared by UKATA.
Silica is commonly referred to as "the new Asbestos". Please download the report on risks related to silica prepared by the All Party Parliamentary Group for Respiratory Health.

Silicosis, is a disease caused by inhalation of respirable crystalline silica (RCS). It is the most common chronic occupational lung disease worldwide. The Health and Safety Executive (HSE) estimates that 600,000 workers are exposed to silica dust, most of them in the construction industry, where it is produced during processes such as stonecutting and drilling. It increases the risks of tuberculosis, kidney disease, arthritis, Chronic Obstructive Pulmonary Disease (COPD), lung cancer and chronic bronchitis.
Symptoms of silicosis can take many years to develop and you may not notice any problems until after you've stopped working with the substance. The symptoms can also get worse, even if you are no longer exposed.
Common reported symptoms of exposure to silica dust include: 
Shortness of breath following physical exertion

 

Severe cough

 

Fatigue

Loss of appetite

 

Fever

 

Chest pains

 

Cyanosis (bluish skin

)
Sandstone, gritstone, quartzite (More than 70%)

 

Concrete, mortar (25-70%)

 

Shale (40-60%)

 

Slate (up to 40%)

 

Granite (up to 30%)

 

Ironstone (up to 15%)

 

Limestone, chalk, marble (up to 2%)
Workplace Health Without Borders UK (WHWB) published the Respirable Crystalline Silica (RCS) an online introductory course. It can be accessed here. The course is interactive (with quizzes!) informative and free.
2 minute video covering silicosis
Today we want to introduce you to Steve Holland, Managing Director of Trolex. Read the interview with Steve and find out more about his career, Trolex and their products.
Trolex have donated a XD One (value £2,000), a brand new product:
"A wearable, self-contained personal dust monitoring device that saves time, money and lives. Breakthrough XD One technology delivers continuous, real-time detection of harmful particulates in even the harshest of conditions, to protect your people wherever they are. Instant alarms to preset TWA and STEL limits."
To enter: send a short write up, how the XD One could benefit your teams in your usual working environment. Email enquiries@shopfitters.org by 17:00 21.06.2021.
Lorraine Shepherd, NAS Training Manager 
Breathe in, hold for two seconds, now breathe out.  Easy isn't it….But not for everyone.   
Meeting a fit out operative who was medically retired at 30 due to an occupational respiratory disease (Chronic Obstructive Pulmonary Disease – COPD) led me to pull together this weeklong campaign.  
Did you know; 
Employers have a legal duty to protect workers' respiratory health.  

 

Breathing in certain gases, dusts, fumes and vapours at work can cause life changing lung disease.  

 

In 2019/2020 12,000 people in the UK died from lung diseases estimated to be linked to past exposure at work

 
Some of the most common substances known to cause occupational asthma are used in or generated by everyday construction tasks (solder fume/stainless steel welding fumes and wood dusts for example).

 
But, it's important to remember some of these diseases are completely preventable. 
This campaign will focus on Training / Resources / Preventative Measures but most importantly AWARENESS AWARENESS AWARENESS!  
We hope NAS Members enjoy partaking in our range of FREE and Subsidised courses, Webinar, and fun Competitions throughout the week. 
……..and Breathe. 
Respirators (filtering devices) use filters to remove contaminants from the air being breathed in. They can be either:
non-powered respirators – relying on the wearer's breathing to draw air through the filter; or
powered respirators – using a motor to pass air through the filter to give a supply of clean air.
Breathing apparatus needs a supply of breathing-quality air from an independent source (eg air cylinder or air compressor).
'Face Fit' Testing by 'Fit2Fit'  accredited NAS Approved Training Providers.
Preferential rates available to NAS Members, contact enquiries@shopfitters.org for details.
Note – Face Fit training does not attract CITB Grant.
Competition for NAS Members
Respiratory protection webinar "To RPE Or Not To RPE"
The meeting is organised by NAS and Sundstrom, who designs and manufactures world-class respiratory protective equipment.
When: Jun 9, 2021 at 3pm.
Register in advance for this meeting. After registering, you will receive a confirmation email containing information about joining the meeting.